skip to navigation
PMI Missionaries
Rev. Guille & Debbie Mac Kenzie
(Camila, Catalina and Benjamin)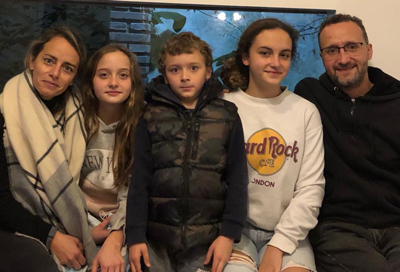 Ministry Area: Buenos Aires, Argentina
Responsibilities: Multicultural Church Development and Theological Education
E-mail Address: guillemackenzie@gmail.com
Church website: www.nuevoavivamiento.com.ar
Latest Newsletter (PDF): July 2016
Guille and Debbie Mac Kenzie were born and raised in Buenos Aires, Argentina. After serving in the St. Andrews Presbytery of Argentina for seven years as an ordained minister, they moved to St. Louis, MO, to pursue further theological education at Covenant Theological Seminary. Guille completed a Master of Theology in May 2010 and is about to finish a Doctor of Ministry.
In June 2010, the Mac Kenzie family returned to Argentina and started serving God again in Buenos Aires. In March 2011, the church launched public worship services, partnering with the Spanish congregation of a Taiwanese Church, thus developing a multicultural community. Praise be to God!
A new adventure for 2016: Misión BETA (Church Planting Center)
Besides serving as pastor of the Spanish congregation at Nuevo Avivamiento church, Guille and other pastors in Argentina are launching a Church Planting Center called Misión BETA. The purpose of Misión BETA is to glorify God and promote the expansion of his kingdom through the multiplication of Christian churches and the transformation of cities. This goal will be taken into practice in four ways:
Promoting a permanent think-tank to reflect about the need to plant and revitalize churches towards the expansion of the kingdom of God and the transformation of society.
Equipping pastors and leaders with an interest in church planting.
Sending and mentoring pastors and leaders with a call for church planting or revitalization.
Providing advice to churches that desire to assess their church searching opportunities for their own development or for planting a new church.
Guille will be serving as part time Operational and Training Director. We invite you to request and read the information package for Misión BETA including more details and ways in which you can be a partner.
Description of our City)
Buenos Aires is a globalized city of around 4 millions inhabitants, reaching 13 millions including the Great Buenos Aires suburban area. It is a very multicultural city that includes people from all continents. It is mostly Roman Catholic, although skepticism and indifference to faith and church are significantly increasing, especially in the context of the city. It also has one of the largest concentrations of Jewish and Muslim communities in South American countries.
We strongly believe that both Nuevo Avivamiento Church and Misión BETA can make a great kingdom impact in this important city that spreads its influence towards all Argentina.
If you want to receive monthly updates from Guille and Debbie Mac Kenzie, please subscribe to their newsletter at http://eepurl.com/dKx6Q.
Make a donation to support this ministry.
Missionary Newsletter Archive
All newsletters are archived in Adobe PDF format.