skip to navigation
PMI Missionaries
Pau & Kim Gualnam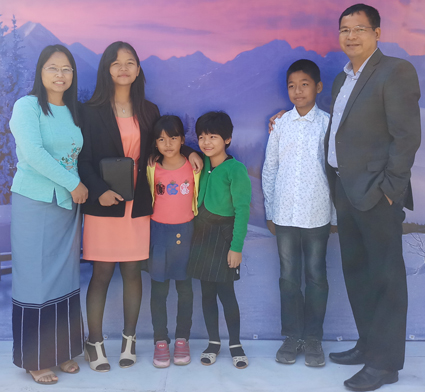 Ministry Area: Northeast India
Responsibilities: discipleship, teaching
E-mail Address: thanggualnam74@yahoo.co.in
Latest Newsletter (PDF): October 2022
Rev Pau Gualnam from India is married to Chiin Hoih Kim and they have been blessed with four children. He grew up in a Christian family, but became Christian only in his twenties.
He graduated from Covenant Theological Seminary with Master of Arts in Educational Ministry (MAEM) in 2008. He and his wife have been praying to God for a long time to open ways and means by which they can serve their people in teaching ministry. They felt the need for having Indigenous Leadership Training Institute. Their burden was deepened by various circumstances and needs that they experienced during Pau's five years of pastoral ministry in the Presbyterian Church in India.
God has now opened a way through Presbyterian Mission International (PMI) by approving Pau as one of the PMI missionaries to serve in Manipur, Northeast India. His ministry is teaching and training his people to be future leaders of the church through the Reformed Bible Institute.
Make a donation to support this ministry.
Read the latest RBI brochure. (Adobe PDF format)
Missionary Newsletter Archive
All newsletters are archived in Adobe PDF format.